It was a story repeated in organisations across the globe in 2020.
A workforce and workplace turned upside down, inside out and back-to-front by the COVID-19 pandemic.
At Welsh Water, the lockdown created a fundamental shift in how the company's people were distributed and worked.
2,000 staff began working from home, almost overnight, and for a close-knit company with a strong family feeling, there was a need to retain that sense of belonging as they began to navigate and understand this 'new normal'.
Caroline Rowlands, Head of Internal Communications at Welsh Water, said:
"We were managing to retain a flow of communications, but wanted people to continue to feel connected and prevent any feelings of isolation.

"Our challenge was to maintain our family feeling and keep people motivated, while providing support and hopefully a bit of fun and enjoyment along the way."
The Welsh Water approach was to hold three campaign weeks, each with a different, but very relevant, area of focus.
Alive were brought in to help plan and populate the weeks, as well as provide the important creative concept that brought the three campaigns together.
An overarching identity was developed – Me + We – capturing the reality of individuals working apart but still remaining part of the collective culture.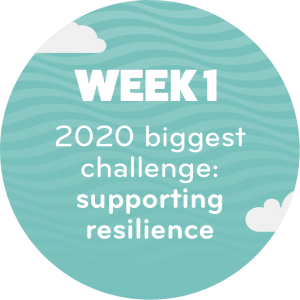 The first campaign week
– focused on resilience – one of 2020's biggest buzzwords.
The week's objectives were to offer reassurance to people, increase awareness of available support and bring the subject of wellbeing to the fore.
Events for the week ranged from a randomised meeting generator to match people for coffee catch-ups to a webinar with former Welsh rugby captain Sam Warburton.
Caroline said:
"Feedback for the week was universally positive. One member of staff said the session featuring Sam Warburton had been his best day in 20 years at the company!"
The second campaign week
– tackled another of 2020's key working challenges – technology.
Understanding that the sudden changes in working conditions and environment had not been an easy transition for everyone, the week focused on recognising this shift, crucially using a dash of the Welsh Water brand of humour and humanity.
It also signalled the arrival of the organisation's very own radio station, which took over the airwaves on the final Friday of the week, playing requests and favourites from staff.
Caroline said:
"We wanted to open up the conversation about technology and help people understand how to get the best out of it and that they weren't alone in trying to find their way.

"Using humour in content like memes for our Yammer channel and a guide to using Office 365 tools based on a town helped make the subject that bit more accessible and less daunting to people."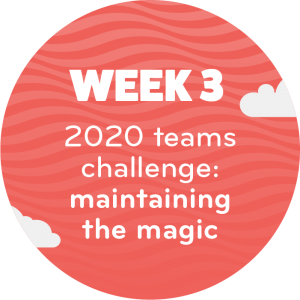 The final week
– focused in on teams and how to retain that Welsh Water magic, within and between teams.
Another Welsh sporting great, Tour de France winner Geraint Thomas, gave another inspiring webinar, while teams were encouraged to interact with each other through a series of games and challenges, such as the Wheel of Fortune. There was also the welcome return of the Friday radio station, this time embracing the Christmas spirit with carols and festive tunes!
"It was a fantastic way to round off our campaign weeks and bring people together just before Christmas.  Our Chief Exec was able to broadcast a Christmas message to the whole organisation on the final day and thank everyone for their efforts in this strangest of years." Caroline Rowlands