I first launched an internal communications app, while working at Diageo, in September 2013. It seems like an eternity ago.
by Guest Blogger
In terms of how the internal communications (IC) app market has moved since then, it is an eternity ago. At the time I couldn't find a suitable solution. I had to partner with a start-up, which focused on consumer communications, to mould a solution into something I could use for employee communications.
The resulting app was definitely worth the effort. I was so excited about the potential for internal communications apps, particularly for reaching disconnected employees, that I decided to move supplier-side to influence the product direction.
I've now been working in that area for over two years and I'm still excited about the potential. Since the beginning of this year there has been a noticeable surge in interest in IC apps. There's particular interest from companies wishing to close the gap in communicating with their disparate workforce – those based in the field, manufacturing plants, warehouses, construction sites, etc.
Retro-Fitting
Having gone through the search and selection process, as well as implementing and rolling out apps in various organisations, one of the key areas to get right is building your business case for using an app. This helps in many ways, but the top two benefits are:
Focusing your efforts in the right direction
Gaining crucial support from leadership/senior stakeholders
Sometimes companies launch a new tool because someone senior asked for it. I was asked, in a previous role, to write a business case for a tool which was implemented before I even started with that company. I wouldn't advocate this approach of retro-fitting a tool with the business. Build your business case in advance and even trial a solution to help you prove some initial ROI.
Do you really need an internal comms app?
Well, do you? I speak with many communicators who are excited about the opportunity to launch an app but they haven't got a defined use case in mind. Others I speak to aren't quite sure how it can add value above and beyond the channel mix they currently have. I've had a few conversations around replacing an intranet with an app – it's all good in theory but not in practice. A way to demonstrate what I mean is to map out the top 10 use cases for your intranet, based on user-feedback and analytics. Next, explain step by step how users would achieve these, in an enhanced way, through using an app. I suspect many of the use cases can't be achieve using an app by itself.
It's a different story for non-desk employees (NDEs), they don't create as much content, co-edit documents or need to collaborate on PowerPoint decks, as desk-based employees do. They also respond positively to a dedicated communications channel, especially if it gives them a voice within the company.
Building the Business Case – PIO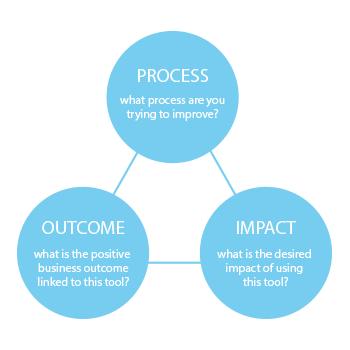 It's easy to get overwhelmed with the vast array of methodologies out there that claim to help you build a strategy or business case. From my experience, it doesn't need to be complicated. A simple but effective way to build a business case is to use the PIO method:
Process – what process are you trying to improve?
Impact – what is the desired impact of using this tool?
Outcome – what is the positive business outcome linked to this tool?
An example and how it translates into PIO is:
P – Improve the speed of employee feedback from those based in customer-facing roles
I – With current channels it takes three days and the input of seven people to gather feedback from employees based in retail stores, field-sales and frontline engineering teams. We want to reduce the time taken and number of people involved within one month of launch.
O – Using this tool the targeted group of employees can submit rich feedback directly into their smartphone, which is received instantly by the team at HQ. The number of people required to run this process has been reduced from seven to two. In addition, the time taken to receive the feedback has been reduced from three days to instant.
Super-Charging the Business Case – ROI
Communicators are always asked to provide a return on investment (ROI) for new initiatives. I regularly hear the word 'elusive' used in the same sentence as ROI. This doesn't have to be the case with an app. Using the above example, there are two ways to calculate an ROI.
Firstly, you've managed to reduce the number of people required in the original process by five. To work out an ROI, take the average hourly salary in your company and multiply it by five (number of people) and multiply it again by two (a conservative estimate of the hours it would have taken each of those people to administer the feedback process). The result will give you a cost saving per feedback process, which you can multiply by the number of times the process is run per month and per year.
Secondly, you've increased the speed of feedback from your customer-facing employees. This, you could argue, is a bit more elusive in terms of ROI. However, you actually have two ways you could prove an ROI here.
You could look at the customer satisfaction rates in advance of the app being implemented and compare them to the results in monthly increments post-implementation. If they have improved, you can attribute them to the improved speed in feedback.
If you think that will be challenged, arrange to speak with the customer service teams handling the feedback and find out how it's helped them improve their resolution times. This not only helps you show the ROI in business terms but will create an ally for the channel, while also reminding them of the value it's providing.
Increasing Adoption – Pull vs. Push
When building a business case, it's advisable to include an overview of your adoption strategy.
When we, communicators, talk about increasing adoption, we usually focus on pushing end users to the app. I suggest thinking of adoption more strategically.
If you increase the business benefits of the app, make processes shorter and more effective, you will in turn attract more users to the app and increase adoption – pull vs. push. Again using the example above, having proven a business benefit for the tool ensure you communicate this internally to both your communications colleagues but also more widely throughout the business. Share the PIO model with them, using your case study as an example. This will provide a strategic narrative as well as a live example of how others can use the tool for similar benefits.
If you want to get started on identifying potential business benefits for an internal comms app, here are some questions to ask yourself:
What need(s) will this app help address?
What challenge(s) will this app help solve?
What does success look like?
Will the business benefits be a viable trade-off for the resources required?
Will I be targeting a particular group of employees?
How will I encourage leaders to actively use it?
Ciara O'Keeffe, VP, Product and Customer Delivery, StaffConnect
If you would like more tips and advice about using apps in IC, check out some of my previous LinkedIn posts.
Ciara is a digital communications leader, speaker and judge with experience in Internal Communication roles at L'Oréal and Diageo and launching IC apps at a number of large companies.