Often the perception of internal communication is far from where we want it to be.
But with large numbers of IC pros not a member of any professional body or investing in CPD, is it any wonder*?
Developing our credibility needs to be a priority for IC pros, and here are our top seven tips for doing just that…
Be an expert
We need to know our industry like the backs of our hands. Are you up to date on the latest research? Have you ever done a professional qualification? Would you be able to discuss a relevant model or methodology at an appropriate moment?
There are so many opportunities available in our industry to increase our knowledge and understanding of our own profession. While there may be a perception that what we do is fluffy, it's steeped in research and psychology. Being able to articulate this and relate it to specific situations in your organisation will go a long way to demonstrating that you can do more than just sprinkle your magic over a piece of writing.
Invest in professional development
One of the best ways to become an expert is to invest in continuing professional development (CPD). It provides you with clarity on which skills and experience you need and provides you with opportunities to gain it.
You can track your CPD with the various industry bodies including IoIC, CIPR and IABC providing you with tangible evidence to show key stakeholders. You also don't need a big budget to do it – check out our blog on Professional Development.
Measure return on investment
As useful as it is to know how many people clicked on your intranet article, that's not what's going to wow your CEO. Start thinking about how you can measure the tangible impact you've had on the business. A great way to do this is to work with other functions to share data. For example, HR, marketing, business development, etc will all have access to data that could help you demonstrate the impact you have.
Ensure you've set clear, SMART objectives up front and know how you'll measure them before you start any communication. Also remember that you can't measure everything so 'measure what you treasure'. Identify what measures of success will best demonstrate your contribution and will be the most meaningful to senior leaders.
Understand the business of business
It's integral to understand how your business runs. You need to understand what employees and leaders actually do all day before you stride in with great ideas. You also need to understand some of the finer details of business. For example, if your company was moving towards being listed on AIM, would you be able to talk about it knowledgeably? You may have the perfect internal communication plan, but if you can't speak the language of the people that it impacts, you will struggle to be heard.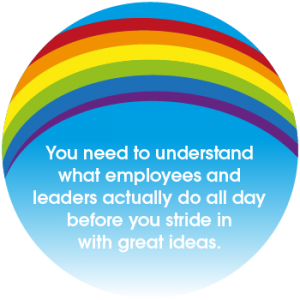 And have you asked yourself recently, 'What matters to my CEO'? Whatever matters to them, should matter to you. Is it about the potential impact of Brexit, a change in legislation, or a complicated acquisition? Once you understand this, you can swot up on it and understand how you could support the business in these areas. Demonstrating your general business expertise is far more likely to get you involved in important conversations where you can have real impact.
At last year's CIPR Inside conference, we ran a session on getting inside the mind of your CEO. It's a great exercise to really step into the shoes of your CEO and understand what really matters to them. One of the great insights was how a major thing that could keep CEOs awake at night is their legacy and it can impact the decisions they make. Understanding that can be invaluable.
Be confident
How we deliver ideas and solutions matters. We need to have conviction in what we say, believe it will work and be able to articulate why. That comes from doing the points above. If you know your stuff, understand how your business works, you have nothing to worry about. And confidence also means being able to say 'I don't know, but I'll find out and come back to you." People will value your honesty far more than a fudged answer.
We also need to have the confidence to challenge. It can be tempting to always say yes to everything, as we want to help people. And while it's important we have a reputation for being approachable and supportive, we also need to be thought of as having professional integrity. This comes from knowing when to say no, or to ask further questions and be able to explain why you're not able to support something, for example, it doesn't support the organisation's strategy.
Do what you say you will, when you say you will
Building trust takes time, but it's fragile and can be broken easily. A great way to build trust and credibility is doing what you say you will, when you say you will.
Always be realistic in what you promise, and plan out your work for the weeks and months ahead. There's a great saying that goes: "A lack of planning on your part, does not constitute an emergency on mine."  People will always come to you last minute and we need to educate them on the benefits of involving us far earlier. That way we will have time to properly plan, and create something that will have lasting impact. While you may meet someone's last minute deadline by pulling an all-nighter, if the output is poor, it will reflect badly on you, not them.
Uphold ethical standards
Sometimes as IC professionals we get asked to do things that don't quite sit right with us. Maybe it's being asked to massage the truth or even outright lie to employees. Whatever the scenario, it's important that we confront unethical behaviour when we see it and explain why it would be inappropriate for IC to be involved.
It's a really tough thing to do, but if you're a member of a professional body, you're expected to abide by their ethical standards, and for good reason. As an industry we need to be seen to be consistent in our approach to ethics. If you come across a potentially unethical situation, and don't know what to do, contact your professional body or call on fellow IC professionals for advice. People may not like you for blocking their plans, but they're more likely to respect you for your professional integrity.
The importance of credibility should not be underestimated as it lays the foundation for us to have real impact. Be honest with yourself about what makes you credible, identify any gaps and work towards closing them – it could make all the difference to the perception of IC in your organisation.
By Helen Deverell for Alive!
*VMA Inside Insights report found that 56% of survey respondents were a member of any professional body.