He's a super organised, super hockey fan who uses his passion for learning both on and off the field.
Let us introduce you to Project Manager Peter…
What did you do before joining Alive?
Before Alive, I did a degree in sports science at Coventry University, I then worked for Carnival UK (P&O and Cunard cruise lines), as a rotations planner, placing staff on 1 of 10 ships, working out Visa's, Travel, Hotels, Length contract, onward planning etc, I then moved onto a HR project delivering a new HR system to help manage staff at sea.
After carnival I took a job at England Hockey as a workforce development project officer, producing a new online learning platform along with resources to go with it, as well the continual addition of new resources and development of the site.
When did you first decide you wanted to be a PM?
I didn't really decide to be a PM I kind of just fell into it. As I said previously, I worked at my last 2 jobs on projects and really enjoyed it, although very different Carnival was a massive HR system project and I was SME looking at people planning processes scoping the old system against the new and England Hockey was a big learning platform project with lots of small ongoing learning resource projects continuously happening to support it. Over the past 7 years I had been doing all project work and as such during the first lock down I decided to formalise all my project experience into a qualification and did a PRINCE2. So you could say here was when I really decided that I wanted to be a PM.
What do you most enjoy about your job?
I enjoy seeing ideas and concepts become physical or virtual resources and then to see them being used. Hearing feedback on how they are benefiting the client or individual feels me with pride. I also enjoy working with different people and finding ways to problem solve and reach a common goal.
Where are we most likely to find you outside of work?
Most likely to find me involved with or watching sport. Since a major injury left me unable to play hockey I decided to coach. I am now a Performance Coach within the England Hockey talent pathway and I coach hockey at various levels, From a national league men's side to young children experiencing hockey for the first time. I feel coaching has really developed a lot of personal skills, having to understand individuals and how to get the best out of them and has allowed me to carry on a passion of mine from my youth. If I'm not at hockey I will no doubt be watching football or rugby or something sporty either live or at home on tv.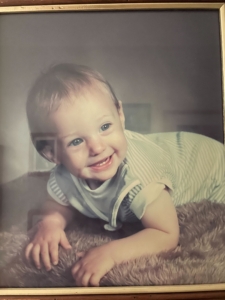 Finally, something we'd never guess about you?
I was a Debenham's Baby of the year finalist in 1990. I think my mum won a competition for free baby pictures in Debenhams, I guess it was something department stores did back then. And the photographer and the store entered my picture into a picture competition. I won the regional round, but not the national unfortunately.