If you want to influence a behaviour, then a great place to start is the EAST model from The Nudge Unit.
Nudge theory is based on the practice of changing people's behaviour in subtle but profound ways. And the EAST model in particular has resonated with communicators…
The fascinating book, 'Inside the Nudge Unit' by David Halpern 'invites you inside the unconventional, multi-million pound saving initiative that makes a big difference through small, simple changes in behaviour'.
The Nudge Unit (officially, the Behavioural Insights Team) was set up in 2010 to apply behavioural science in a systematic way to a range of government policies. The team's overwhelming success has taught us some invaluable lessons about how to shape people's behaviour and the book was recently chosen for review by CIPR Inside's #ICBookClub.
For internal communicators (and leaders too), the EAST model – Easy, Attractive, Social, Timely – is an ideal framework upon which to shape our messages, keeping our comms considered, concise and human. We're taking you on a visual journey through EAST to explore what it all means (just watch out for the bears)…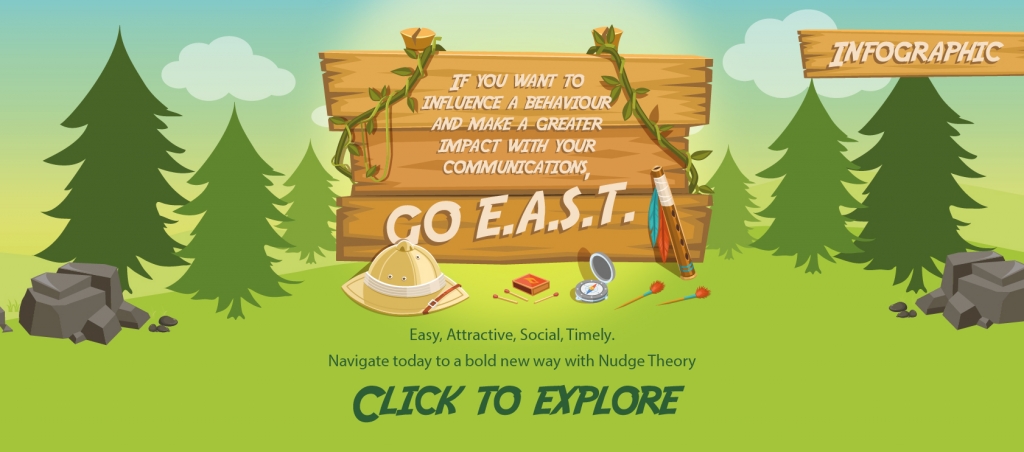 For more information about the Behavioural Insights Team (aka The Nudge Unit) visit their website. And for the
latest findings and comment from the world of behavioural science and public policy there's a great blog too!
What nudges have worked for you and your comms challenges? Share them on Twitter, @alivewithideas.